Hello,
I would like to introduce you open source text editor 'WordRider' which helps with creating TxtRider's text format in calculator TI-89.
WordRider is similar to applications such as RidEdit, MadCoder's Text Editor or Okin's Word. WordRider brings full support of TxtRider view-tags and more user convenience with working TI-89text format. WordRider editor is "almost" WYSIWYG.
Features
* you can easily change font sizes, alignments, margins, word wrap, math expressions and insert line separators or breakpoints
* really easy work with breakpoints and inserting special characters
* 89i pictures support
* drag and drop support
* math expressions are distinguished by color
* multilanguage environment
* free software
* open source code under GNU GPL license
* support for Java Look&Feels and themes
* OS platform independent
* and much more...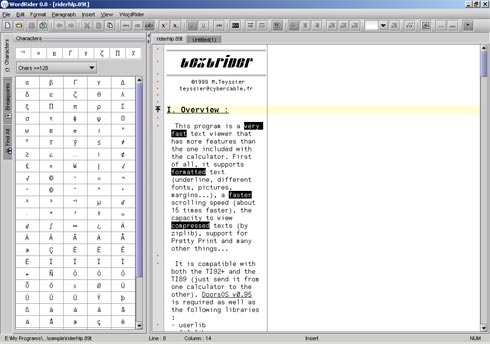 I also look for someone who would be able to translate WordRider editor into French.
More info can be found here:
http://wordrider.net
Vity