Hi Blastar!
The NGFX tools kick ass!
One small observation is that "Palette > Save as" the window prompt that opens says "Open" when it should say "Save"...The functionality works perfectly just saying...
Now on to the big questions.....
Seen below is your typical NGFX GUI as a reference point.
Fichier joint :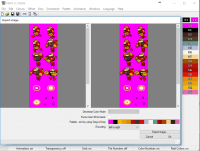 Often when I import an image I will need to use the drag and drop feature to match the palette of the imported image to the palette I have loaded in NGFX.
1. By adjusting the the drag and drop to be vertical and a little larger it would be much easier to do manual palette matching. (It is small now and you are comparing vertical to horizontal all the time)
2. A feature called "Match to Current Palette" if checked the palette in your imported image would shuffle to best match the palette that is currently loaded in NGFX.
If you look at my example you could A) Manually drag and drop palette entries or B) Just check "Match to Current Palette" and the computer would do its best to line up palette entries using the current NGFX palette as the reference.
See a mockup for a better visualization of feature requests.
Fichier joint :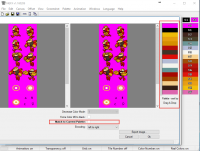 Thanks a million for creating this great tool!