You can be surprised, but the genre of my project which has been mentioned in
DATlib topic
, is RPG actually, but
unusual
RPG - because ingame space I chosen is indistinctive for RPGs and very similar to beat'em-up!'s space.
And, as you might guess, the meetings with enemy (unlike a most of 8- and 16-bit RPGs) will not be random, but will use to be caused with player and enemy sprites collision in non-combat mode, like in Xenosaga series games.
I already
added a first rudiments of combat system
(the main problem at this moment is to make attacking player sprite
smoothly walk toward enemy
before attack instead of "teleportation" which we have now). The enemy turns also will be added later.
I planning to create a body of role and combat system on the base of Xenosaga Episode II code reverse-engineering results.
Fichier joint :
Fichier joint :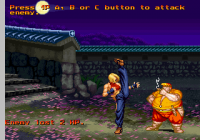 Fichier joint :
Also I need an original graphics very much. However, Yoh's sprite must be redrawn from the Haohmaru (from the
first
part of Samurai Shodown exactly) poses and motions, and Ryo sprite must look like Robert Baun from Burning Fight.